Crystal Ball Predicts your next read for October
:
Book Title : Holy Ghost Girl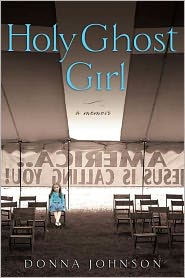 Pub. Date: October 2011
A compassionate, humorous story of faith, betrayal, and coming of age on the evangelical sawdust trail.
She was just three years old when her mother signed on as the organist of tent revivalist David Terrell, and before long, Donna Johnson was part of the hugely popular evangelical preacher's inner circle. At seventeen, she left the ministry for good, with a trove of stranger-than-fiction memories. A homecoming like no other, Holy Ghost Girl brings to life miracles, exorcisms, and faceoffs with the Ku Klux Klan. And that's just what went on under the tent.